Avanti Partners with Switzerland Tourism to Promote FIT Vacations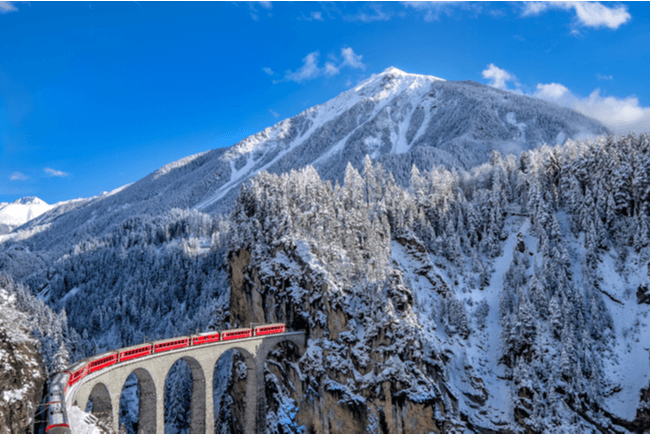 Avanti Destinations and Switzerland Tourism have partnered to launch a campaign to promote flexible FIT vacations throughout Switzerland together with a $100 gift card for travel advisors for each booking
The joint promotion consists of webinars and a new 76-page downloadable e-brochure, available on Avanti's travel advisor portal. Travel advisors will receive a $100 gift card for each booking made between March 22 and May 31, 2021. To qualify, each booking must be for at least four nights in Switzerland with a minimum land value of $2,500 with travel taking place anytime through Dec. 31, 2021. 
The e-brochure on Switzerland introduces two new customizable Avanti vacations—the nine-day, eight-night Self Drive Grand Tour of Switzerland vacation and a new seven-day, six-night Culinary Mountain Retreat journey. Avanti also offers two Grand Tour of Switzerland by rail vacations – one for 11 days, 10 nights for travel April through October, and one for eight days, seven nights for travel December through March. 
For foodie clients, the new seven-day, six-night Culinary Mountain Retreat vacation includes a small-group walking tour of Lucerne; Lake Lucerne lunch or sunset gourmet cruise; a private horse-drawn carriage ride in the Mt. Rigi area; a cheese workshop at an authentic Alpine dairy; and more. 
There are six other customizable itineraries in the e-brochure, many featuring mountaintop excursions or scenic train routes, such as the world-famous Glacier Express.
Among the 22 activities and experiences featured in the e-brochure: private and shared walking tours of most towns; private Bachalpsee hike near Grindelwald; private Zurich and Rhine Falls tour; shared Zurich sunset tour with a fondue dinner and tour of the Lindt chocolate factory; shared kayaking tour near Interlaken; private guided wine tour in the Lavaux; private Golden Gruyere tour; and several small group tours, including some touring cheese and chocolate makers.
"It is a natural choice when looking at organizing a post-COVID-19 trip," said Claudio Zemp, Director Americas for Switzerland Tourism. "Travel advisers are facing many challenges. I firmly believe that choosing to book a Switzerland package through Avanti will give them peace of mind, as well as give their clients the most memorable vacation."
"Switzerland has always been a favorite all-season destination for our agent partners' FIT clients," said Paul Barry, Avanti's CEO. "We are very pleased to partner with Switzerland Tourism to help educate and inspire agents and their FIT clients to create a customized vacation in this diverse Alpine country, which also has the best integrated public transit system in the world and several world-famous scenic train routes."
Avanti said there are several more similar joint campaigns coming in the next few weeks, with some for countries already open for US travelers, some for ones hopefully opening by summer.