Night at the Club event to showcase nonprofit programming | News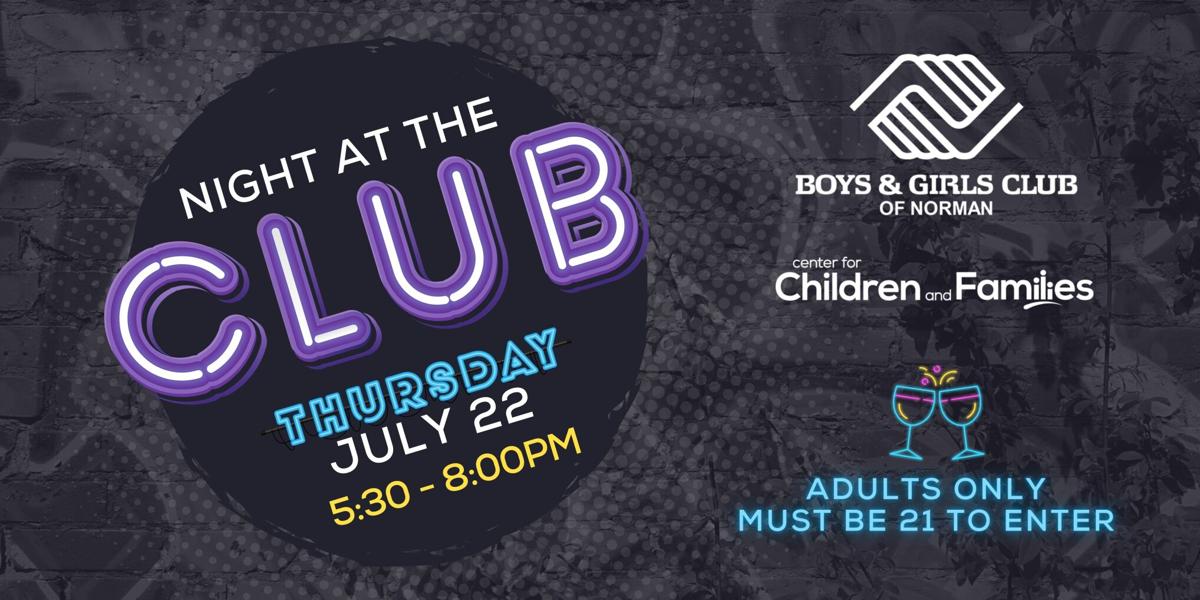 A local nonprofit will raise money for future community programming with an upcoming evening of games, drinks and door prizes.
From 5:30 to 8:00 p.m. Thursday, July 22 at Boys & Girls Club of Norman, adults age 21 and older can attend an interactive "Night at the Club," featuring a silent auction, arts and crafts and food provided by local eateries.
Admission is $50, and includes all activities, food, drink tickets and a champagne toast. Special VIP access for $75 includes the aforementioned items and a commemorative glass and take-home art project from Pinot's Palette.
Melissa Klink, development director for the Center for Children and Families, said the evening fundraiser is a concept the organization has yet to try, but leadership felt it was an appropriate time to get creative.
The event is designed to provide the organization an opportunity for engaging with new donors and those in the community previously unaware of what they do.
"We will bring them into the building for a night of fun to play like the kids do here at the Boys & Girls Club," Klink said. "The difference here is there will be small bites from Benvenuti's, dessert from Social Butterfly Catering and adult beverages provided by Scratch Kitchen and Cocktails."
Door prizes planned for the event are gift cards to local restaurants, while silent auction items will include date night packages and a five-night getaway to Innisbrook Golf Resort in Florida.
"There's something there for all ages, and we have a couple family fun bundles and museum and zoo passes," Klink said.
The silent auction starts at the end of the week, closing at the time of the event. Klink said this gives those who don't feel comfortable going to in-person gatherings a chance to support CCFI and the Boys and Girls Club.
Klink said the event will give the public a chance to see the updates to CCFI's facility over the last three years.
"We have had a bunch of updates over the last few years, so they can come see our new toys, games and playground equipment," Klink said.
Space for the event is limited and health and safety protocols will be adhered to. For questions about the event, CCFI or the Boys and Girls Club, contact Melissa Klink at mklink@ccfinorman.org.
A registration link on Eventbrite is available on the CCFI website at ccfinorman.org/.
Jeff Elkins covers business, living and community stories for The Transcript. Reach him at jelkins@normantranscript.com or at @JeffElkins12 on Twitter.